Q-Sys | News
Flexibility makes synchrotrons happy
Over the years, Q-Sys has supplied a large number of platforms to synchrotrons all over the world. These platforms seem identical at first glance, but nothing could be further from the truth. The concept is identical, but the platforms can differ from each other in quite a few aspects. These can be details such as the number of inserts and the location of the inserts in the granite, but the differences can also be more significant. These include the granite columns that can or cannot be removed or the height of the bridge. But also whether the platform has two axes (X and Y) or more. In the latter case, the axes can move in a coordinated manner. In addition, it is possible to equip the top axis (X) with a so-called lifter with which components can be manually aligned (both course and fine) in the vertical direction. The photo shows how the system is equipped with earth quake devices. The aim is to ensure that the platform does not move independently during an earthquake and that the loose granite columns remain in place. This facility has been developed in close collaboration with the customer and is another good example of what is possible.
Motion platform for a 3D printer
The platform is the core of a 3D printer. It delivers 5micron positioning accuracy over the 1000mm x 200mm print area. Among other things, the platform is equipped with a vacuum chuck to "hold down" the printed products. The vacuum pump and all related components (e.g. checking if vacuum is present or not) are supplied on a dedicated bracket which can be integrated in a control cabinet. The print head bracket accommodates multiple print heads, each of which can be individually aligned to achieve optimum print quality. Next to the printing area is a station where a UV lamp fully cures the printed products. The two compartments are separated from each other by means of a pneumatically operated "light curtain". In this way, UV light is prevented from accidentally reaching the print heads and clogging them.
Drop-in replacement XY
This XY table is a drop in replacement for an existing motion platform in a laser processing machine. For the customer, this meant that no mechanical changes were required to the machine. The new platform had (almost) the same dimensions and was mounted in the same place as the old platform. To get the ultimate accuracy from the machine, error mapping was performed using a 2D encoder. The big advantage of this is that the errors are measured in two directions simultaneously and not with a time difference as usual.
Precision direct drive rotary stage
This rugged 160mm diameter rotary stage provides excellent dynamic performance with minimal geometric errors. The combination of a direct drive servo motor, integral optical encoder and high performance bearings produces a stage with very high stiffness and zero backlash. With a 50mm through hole the stage is suited to a wide range of applications and is available with various configurations of limits and hardstops.
LTP for manufacturer of KB mirrors
KB (Kirkpatrick-Baez) mirrors are used in synchrotron research facilities and the techniques are pushing for smaller focused spot sizes. The KB mirror pairs are used to focus x-ray spot sizes down to below 1µm. When producing these mirrors it is important to achieve the extremely high specifications in both slope error and micro-roughness required. Nowadays the slope errors should better than 0.1µrad.
The LTP is able to precisely measure slope errors smaller than 0.1µrad along the whole mirror length. This single axis version of our proven optical metrology system used by several of the world's synchrotrons is now used by a mirror supplier to validate surface profiles prior to delivery.
The system is available as a single axis platform but can also be delivered with additional axes. For example this could be an X2 axis for horizontal measurements but also a RTT platform for automatically alignment and flipping of the mirrors (SUT) without interference of an operator who could cause a thermal disturbance of the environment.
Positioning platform for aligning transfocators
A transfocator is a tunable X-ray focussing device based on compound refractive lenses. In synchrotrons these instruments can be used in both white and monochromatic beams to focus, pre-focus or collimate the beam. The transfocator needs to be aligned in four axes with respect to the beam. Q-Sys engineers have designed and built a motion platform for this specific purpose. The design is based on two drive wedges and one triangular opposing part. Each side of the system will have a combination of two drive wedges and one triangle. All elements can move by using recirculating bearings which provide high stiffness. The wedges are driven by means of ballscrews combined with stepper motors and a Harmonic Drive gear. All drive wedges are equipped with linear encoders to provide a very high positioning accuracy and a very small Minimum Incremental Motion (MIM). The platform has to carry a 400kg load and additionally a 200N external force acting at an offset. The footprint of the platform is less than 800mm x 600mm.
Solutions provided to synchrotrons to overcome challenges
Q-Sys engineers have been involved in synchrotron projects for more than 20 years. In many cases, the solutions offered have far exceeded expectations. In recent years, we have delivered a large number of motion platforms worldwide that are used in the metrology laboratories as LTP- (Long Trace Profiler) or NOM-benches (Nanometer Optical Measuring). There are variants of this platform with two (XY), but also with four or five axes (XY plus tip-tilt or XY plus rotary-tip-tilt). In addition to the offline equipment, we have also designed and supplied various solutions for the hutches. This includes detector positioning systems, stages for positioning transfocators and positioning systems for in-vacuum phase plates. The aforementioned is just a selection of the bespoke systems that we have designed and supplied and with these, Q-Sys has built a serious track record for synchrotron (test) applications.
Long travel vertical air bearing axis
The air bearing axis is basically designed for vertical applications and offers travels of up to 2000mm. Actuation takes place by means of a ballscrew, whereby the position feedback is done with the aid of a high-precision optical linear encoder. These components are located in a slot in the granite column, which is then covered by a fabric belt. This prevents, on the one hand, contamination of for example, the encoder and, on the other hand, the possibility of touching the rotating spindle during movement or getting trapped. The roll and pitch errors of the slide during motion are smaller than 3arcs.
High-precision air-bearing movement for measuring optical components
The integrated rotation and vertical movement form only two axes in a four-axis platform. An air bearing vertical axis makes it possible to adjust the height of a direct-driven rotary table. This is necessary to bring an object to be measured in the correct position in relation to the measuring instrument. The rotary table is also equipped with an air bearing and is driven by a torque motor. The motor has no cogging and a torque ripple of less than 0.04%. This motor, combined with the air bearing and a non-contact optical position feedback, ensures an extremely small velocity ripple. The eccentricity of the rotation is < 0.1µm and the wobble < 1µrad. The center line of rotation is within 2µrad parallel to the vertical movement. The vertical axis is also equipped with air bearings and is driven by an epoxy core linear motor. As a result of the chosen motor concept, forces are only applied in the drive direction and this results in a pitch of < 8µrad and a yaw of < 3µrad. The total mass is balanced so that the motor generates a minimum of heat.
Linear positioning stage with up to 2000mm travel
Our QL-R range of stages has been extended—literally. This versatile stage is now available with travels up to 2000mm. Linear motor driven, the stages offer various combinations of motor size and encoder resolution to suit a wide range of applications. Internal cable management makes this a neat and compact stage, suitable for use in single or multi-axis systems. For more information about the stage please see the download section of our website.
High Accuracy Rotary-Tilt Axes for Laser Machining
The two axes use air bearings to provide highest possible accuracies. The precision-aligned axes can, for example, be combined with linear axes and in that configuration give customers high accuracy machining capabilities for complex 3D part geometries. The rotary features a direct drive and a high resolution encoder. This combination makes a wide range of speeds possible without sacrificing accuracy. The tilt axis allows ±100° of travel. The combination of high precision encoders and air bearings provide excellent accuracy and repeatability performance. The encoders are absolute thus preventing loss of position in case of an eventual power failure.
High Speed Test Platform
This three axis test rig delivers speeds up to 5m/sec over the central travel area with straightness and flatness within 5µm, making it ideal for print head testing. The reverse side of the granite bridge can also accommodate a full width axis to enable immediate optical inspection of the print output. Using a solid granite assembly, the stage is exceptionally stable and is fitted with linear motor drive for the horizontal axes.
Large scale motion platform for FPD laser processing
The platform was developed in close collaboration with the customer. It is built on a so-called polymer composite base. In addition to the three motion axes, the scope of supply included various other components that are necessary for the process. Examples are facilities for unloading and loading of the FPD, but also the alignment and inspection of the FDP, camera's, sensors and extraction equipment. Special attention was required for the grippers with whom the FPD is clamped. This was a delicate process and damage to the FPD should be prevented at all times. The approximate travels of the axes are 1500mm x 1200mm with the achieved straightness and flatness of the movements being about 10µm.
Bespoke development platform for 3D printing
This development platform is yet another good example of our bespoke service for non-standard motion systems. The platform is intended for use in a 3D printing application. It delivers 5 micron positioning accuracy over the 1000mm x 100mm print area and comes with a UV blocking safety housing. Among other things, the platform is equipped with a vacuum chuck to "hold down" the printed products. Next to the printing area is a station where a UV lamp fully cures the printed products. Inside the cabinet, all components are black, as far as possible, to avoid reflections of light and to prevent the printheads from clogging with cured ink.
Motion platform with 4 degrees of freedom (DoF)
This 4 axes platform provides motion for precision alignment as required in for example synchrotrons. It concerns horizontal and vertical adjustment plus rotation about these two axes. The travels are ±40mm for the linear motion ±1° for the rotations. The platform features an unusual three-wedge design to achieve the required motion in a very limited envelope. The through hole is 500mm x 300mm and allows access from both top and bottom.
Gantry with moving bridge for example to be used in reel to reel applications
The base of the system is a granite plate, resting on a welded steel frame. The system has 1800mm x 150mm travel and achieves up to 1m/s. The gantry is driven at both ends by linear motors, each with an associated linear encoder. This means the gantry is driven as a pair of independent axes, locked together in the controller in gantry mode. Flexure mounts attaching the beam to the carriages ensure no twisting stresses are allowed to build up. The system is very suited for example to be used in reel-to-reel applications where thin foil is processed by using a laser.
Precision air bearing rotary stage for laser machining
This direct drive rotary stage employs a granite base for stability and provides a high precision platform with large through hole of 320mm diameter. With a payload capacity of as much as 300kg, it delivers better than 10μrad accuracy, 5μrad wobble and less than 0.2 micron axial and radial runout.
Beamline Optics Alignment platform
This X-ray optics alignment platform delivers three motorised axes plus a manual slide. The stage has travels of ±100mm (200mm) in Y, ±30mm (60mm) in Z and ±5deg (10deg) in θ. In addition, the central section of the granite top can be floated on air bearings and moved manually by up to 400mm. This slide carries a payload of up to 150kg and provides a very flexible solution in an application where the arrangement of optical elements may vary on a daily basis.
Optical Metrology stage for low cost LTP applications
This mechanical bearing stage provides an entry level alternative to our proven metrology benches, for less demanding applications. Intended for granite mounting, it has 1200mm travel but other travels are available upon request. Depending on the travel the accuracy is 2micron after error mapping, 10arcseconds roll, pitch and yaw and 6micron flatness and straightness.
High speed test system delivers new levels of precision
This print head test and development system offers substrate speeds of up to 5m/sec while maintaining straightness and flatness variations of better than 5 microns. With an integral A3 size vacuum chuck and a full width stage on the reverse side of the bridge, the system can also be fitted with optical inspection hardware for results analysis.
Rotary-Tip-Tilt Stage completes the picture on Optical Metrology
This RTT stage has been installed in several optics labs around the world to complete the mechanics of state of the art X-ray mirror metrology systems. It delivers 5 degrees of tip and tilt plus 305 degrees of rotation, enabling alignment of the subject under test (SUT), measurements at defined angles, enabling stitching of measurement results of stronger curved mirrors and full end-to-end flipping without disturbing the stable measuring environment.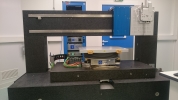 Turn key machine for characterizing optical components.
SHARPeR is a Eurostars project that has resulted in a new high accuracy automated metrology platform for extremely high quality optical components needed for example in synchrotron beamlines, EUV lithography systems and telescopes. For example X-ray mirrors in excess of one meter length can be characterized with a slope error accuracy better than 50nrad rms.
The system consists of three main elements:
• A highly stable and repeatable multi-axes motion platform including rotation and tip-tilt stages
• A high precision wavefront sensor with an absolute accuracy of λ/1000 rms
• An advanced stitching algorithm for high accuracy results
The basic version of the platform consists of 2 linear axes enabling longitudinal motion for scanning and transversal travelling to expand the range of the characterization area. Optionally, rotation and tip-tilt can be added. Thus enabling the user to flip the optical component under test without disturbing the measurement by manual interference. The new ultra-high precision Shack-Hartmann wavefront sensor is integrated in an optical head to provide 2D slope/height maps. The surface under test can be oriented horizontally or vertically to match the actually used configuration.
This complete metrology platform is designed for manufacturers without beamline access to deliver optical surfaces of extreme precision as required for, e.g., focusing or transferring x-rays in synchrotron applications. The platform is available with or without Shack-Hartmann sensor in case the user should wish to integrate his own measurement equipment. The complete turn key solution can be obtained from our partner in this project, Imagine Optic
Thanks to Eurostars funding, two world leading companies are now working together to combine their expertise and deliver the complete turnkey system. Imagine Optic (France) developed the ultra-high precision Shack-Hartmann wavefront sensor (HASO UHP) with exceptional wavefront measurement accuracy up to λ/1000 rms. Q-sys (Netherlands) developed the highly stable motion platform with excellent specifications, ideal for optical metrology.
High Accuracy Bespoke system for a R&D laser application
This test system was required for specific R&D tasks in the field of laser direct imaging. It was developed based on customer specifications. For the 2 independent Z axes a repeatability of 1µm was required. These two Z-axes are located above a horizontal 300mm linear stage, which is driven by a linear motor. The stage delivers a speed of 500mm/sec with tracking errors better than 1.5µm. The system is built inside a safety enclosure with a special foil in order to filter light with specific wave lengths.
Motion platform with four degrees of freedom
In several beamlines at The European Synchrotron (ESRF) in Grenoble, devices called transfocators are installed and are used for focusing X-rays. The transfocator can be used with other monochromators and/or with other focusing elements. These devices, which consist of a number of co-axial circular lenses, need to be carefully aligned to the X-ray beam. For this particular application, Q-Sys has developed and built a motion platform with four degrees of freedom that enables the precise alignment of these devices. In order to keep the platform very compact while maintaining stiffness and stability, a three-wedge construction has been used. The platform provides two linear movements, one horizontal and one vertical, plus rotation around each of the linear movements. By working in close co-operation with the ESRF engineers and with some imaginative design approaches, Q-Sys was able to provide a solution that met all requirements of both performance and cost.
Z-wedge Lift Stage
To further enhance and broaden the range of standard stages available, we are pleased to introduce the QW-R-10 vertical lift Z-wedge stage. This stage compliments our existing range of linear and rotary stages and allows multi-axis systems to be created for applications requiring height or autofocus adjustment such as visual inspection and laser processing. The datasheet is available for immediate download from the download section of this website.
High Precision Calibration Platform
This 3 axis platform was designed to meet very specific customer requirements and forms the central part of a new autocollimator calibration facility. It has one linear axis and 2 rotary axes, all direct driven. The autocollimator under test is mounted on a long travel linear stage running on air bearings on a precision lapped granite base. Because of the type of instrument being calibrated, angular errors are extremely important. Over its full travel of 1.5m, this linear stage delivers pitch, roll and yaw errors of less than 5μrad. Two reference autocollimators can be mounted on the fixed granite column as part of the measurement system. Finally, a cube shaped optical reflector is mounted on the stacked rotation axes. These enable the reflector to be quickly and accurately positioned with an angular repeatability of better than 0.1 μrad! The system is installed in a clean room at one of Europe's foremost standards institutes and stands on six vibration isolation feet that are linked to provide a three point support for the granite base. A full controls package and installation service were also provided.
Controller upgrade
While capital expenditure budgets remain under tight control, more users are finding that a new lease of life can be achieved with an overhaul of their existing hardware combined with replacement of the controls system with an up-to-date alternative. While motion stages have changed little in recent years, control systems are continually evolving. The latest system to receive such attention from Q-Sys is a laser cutting station where the motion stages and laser have many years of service left in them — replacing the old controller will increase reliability and extend the system usability for some time.
Motion and positioning system field support and upgrades
Q-Sys is pleased to announce a service and support facility for owners and operators of high performance motion and positioning systems. Following last year's closure of Anorad's European offices, existing owners of Anorad systems have very limited options for technical support – not a satisfactory situation for the large installed base in the UK and mainland Europe.
Q-Sys was formed in 2007 by four senior managers from Anorad to continue the tradition of designing and building high specification motion platforms. Alongside this expertise, Q-Sys engineers are familiar with the majority of system hardware in use in Europe and are able to provide a comprehensive maintenance and repair service. This can range from the occasional call to rectify a system problem - through routine planned maintenance for essential production machines - all the way to full upgrades and refits on older or more heavily used equipment. This can of course incorporate full controller upgrades to take advantage of the significant improvements in hardware and software in recent years. Sometimes this can be the cost effective way to keep a system running longer and delay the need for more significant capital expenditure on whole system replacement.
Service support can be arranged either on an as required basis or through a managed service contract providing scheduled service visits, with emergency call out if required.